COPERNICUS4REGIONS BREAKFAST DEBATE, 23 January 8.30-10.00, European Parliament, Brussels (BE)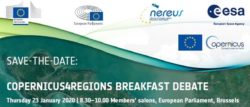 Member of the European Parliament, Eric Andrieu will host a debate with other Members of European Parliament, high-level representatives from European Public Authorities, the European Commission, the European Space Agency and the Network of European Regions Using Space Technologies (NEREUS).
Organized by NEREUS, together with the European Commission and the European Space Agency, the event focuses on Public Authorities using Copernicus meet Members of the European Parliament.
Light breakfast will be kindly offered by the organizers;
The registration (by invitation only) closes on the 15th of December.
Material
INVITATION & REGISTRATION
PROGRAMME (will follow shortly)
VENUE: European Parliament (Members Salon), Brussels, Belgium (more info will follow shortly)
Have a look at our Copernicus4Regions event organised 22nd November 2018 in the European Parliament here
Stay tuned, and tweet #Copernicus4Regions!