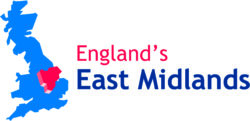 One of England's largest regions, the East Midlands covers approximately 16,000 square kilometres with a population of 4.3 million people and 260,000 businesses.The East Midlands has excellent road and rail links to London and other major UK cities and East Midlands Airport serves many European capital and regional cities. The region is home to a number of international businesses, industries and universities.
Priority sectors, identified for sustainable economic development through innovation, include healthcare and bioscience, sustainable construction, food and drink and transport, with space science and technology capabilities able to support  all these sectors.
The University of Leicester enjoys worldwide recognition for its international research in space science, planetary exploration and earth observation science. The University of Nottingham is a world leader in space-based applications of GNSS. The National Space Centre is a £60M science visitor centre attracting over 200,000 visitors annually, with over 10,000 students and their science teachers participating in its Space Academy and other space education programmes.
Space-based companies in the region include Infoterra-Global, Nottingham Scientific Limited and a wide range of SME's involved in space applications. Industry-academic partnerships are promoted, through GRACE at the University of Nottingham and G-STEP at the University of Leicester, as enablers for end-user applications and business opportunities based around space technologies.
A regionally supported space network, involving all these players, is helping to position the East Midlands as a key region in Europe for downstream applications of GNSS, GMES and other space technologies.
General information
http://www.englandseastmidlands.co.uk/
http://www.eminnovation.org.uk/Default.aspx