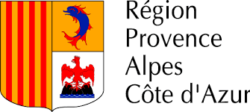 Provence-Alpes-Côte d'Azur is a leading French region in space activities. It has an attractive territory with a powerful economic activity in sectors as diversified as telecommunications, microelectronics, digital technology, life sciences, sea technologies, multimedia and – of course – aeronautics and astronautics. In 2016, regional exports of aeronautic and space products (excluding military equipment) amounted to 1.2 billion euros (6% of the region's total exports). In 2013, 193 companies of Provence-Alpes-Côte d'Azur worked in this area and employed more than 18,000 persons (10.5% of the total of industrial jobs).
Following a national competition, Provence-Alpes-Côte d'Azur has been selected in 2016 to launch the BOOSTER PACA initiative connecting and gathering the regional ecosystem to promote and develop the use of satellite data. Supported by the Regional Council of Provence-Alpes-Côte d'Azur, the metropolis of Nice-Côte d'Azur, the grouping of municipalities of Sophia Antipolis, the city of Cannes, this BOOSTER covers:
The ICT sector:
The Cluster SCS "Solutions Communicantes Sécurisées"
Telecom Valley
French Tech Côte d'Azur and Aix/Marseille
The ARCSIS association
The COM4Innov platform
The downstream application sector:
Cluster Mer Méditerranée (sea technologies)
Cluster Eurobiomed (life sciences)
Cluster Capenergies (energy)
Cluster Optitec (photonics)
Cluster Eau (water)
The Academia, with its laboratories and engineering centres:
Les Communautés Universitaires d'Etablissement (ComUE) « Côte d'Azur» et «Aix Marseille Universités», Geoazur, Mines ParisTech, l'IMREDD, INRIA, IRSTEA
The incubators of start-ups and innovation promoters:
l'Incubateur PACA EST, PEGASE Croissance, SATT sud-est, EIT Digital, EURISY, l'Agence Régionale D'Innovation et d'Internationalisation (ARII PACA), la Chambre de Commerce et d'Industrie Nice Cote d'Azur (CCINCA), Sophia Business Angels (SBA).
The Industry:
ACRI-ST, Airbus DS, CS, Ellipso Facto, Kinaxia, Monaco Telecom, Qwant, Sophia Conseil, Thales Alenia Space, Thales Services, Telespazio.
This strong community is working to develop partnerships and collaborative actions to develop the uses of satellite data in the different downstream sectors. In this perspective, Provence-Alpes-Côte d'Azur Region is looking forward to continue and intensify its collaboration with European partners.