The proposal by the European Commission to establish a Community programme for Earth Observation (GMES) and the rules for the implementation of GMES initial operations (GIO) 2011-2013 offered the perfect background to launch the dialogue with the newly elected European Parliament.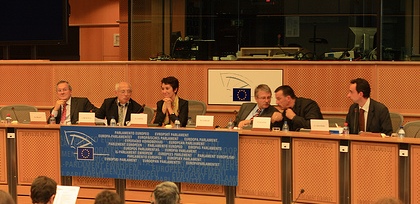 Hosted by MEP's Françoise Castex (Midi-Pyrenees, France) and Michael Gahler (Hesse, Germany), the meeting attracted  some 100 participants from the Regions and the European Institutions.
NEREUS President Alain Bénéteau stressed that NEREUS is the first network of regional authorities to integrate space technologies into the cohesion, economic, social and territorial objectives defined by the European Union. It is not only open to regions with a strong space potential but to all European regions. By devoting special attention to the bi-directional flow of information between the regions and the European Institutions, it positions itself as a unique player in European space policy-making. It is financially independent, relying solely on membership fees. It does not participate directly in calls for projects, but it aims to support its members in building partnerships such as the DORIS and the PEGASE projects. The GMES programme will be an essential tool to support environmental policies and their implementation. (download Mr Bénéteau's speech)
Keynote speaker Norbert Glante, MEP (Brandenburg, Germany) and ITRE rapporteur, highlighted the significance of the GMES project for Europe and its immense benefits for the European citizen. The vote on the proposed GIO regulation which is generally well received by all EP groups will take place in the spring of 2010. The top priorities, says MEP Glante, are to avoid time lags and to provide adequate, timely funding. Ideally, commitment appropriations should be made in the current financial framework period. Undisrupted and reliable provision of data is vital to ensure that users and data processors can plan ahead and set up solid business models. A key feature of the GMES programme is that satellite data will be made available free of charge – this will in no way be a threat to existing businesses. Also duplication of data collection between the European Space Agency and the Member States will have to be averted.(To view MEP Glante's full speech: http://glante.de/download/reden_ng/Rede_NG_Nereus_17.11.09.pdf and article on GMES: http://www.e-pages.dk/dods/171/24)
European Space Agency representative Michel Praet emphasized that each European region is either already active in GMES or will soon be involved, irrespective of the fact that it has space manufacturers on its territory or not. Already a number of SME's which do not belong to the traditional space manufacturing field are using Envisat, Spot, Topex-Poseïdon, Vegetation, Proba, etc.. and will be the first to reap the advantages of sentinel data centres.  Mr Praet encouraged the NEREUS network to intensify relations with the European Parliament and to identify in each of its 25 member regions one MEP interested in space matters, to act as "the space voice" of his/her region.
European Commission's GMES Bureau representative Giancarlo Granero signalled that the proposal is not only about initial operations, and that it has a broader dimension: it will give birth to a fully fledged GMES programme, complete with long-term objectives, scope, governance and, of course, funding.