HOW CAN SPACE DRIVE BUINESS OPPORTUNITIES IN NON-SPACE SECTORS?
NEREUS' panel at the Aerospace&Defense Meeting in Rzeszow (Podkarpackie Region) portrayed in an exemplary manner the added value of space and presented programs and initiatives in its member Regions that support companies and SMEs in their endeavour to exploit space.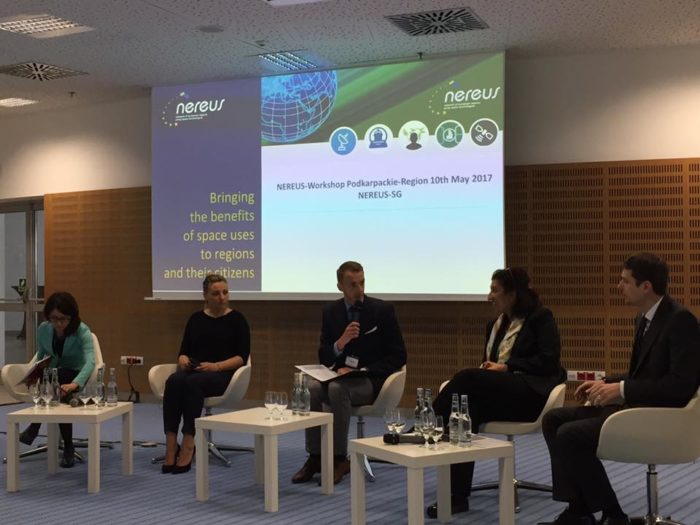 Following a festive act during the official opening ceremony of the Aerospace & Defence Meetings, held in Rzeszow to celebrate the adhesion of Podkarpackie Region to the network, NEREUS was invited organize a conference panel.
The session was an opportunity to promote and raise awareness on the business opportunities of the space field when applied to other sectors such as aviation, transportation or agriculture. Moreover, representatives from the European Commission and the European Space Agency were invited by NEREUS to present programs and initiatives aiming at supporting companies and SMEs with space-related business activities. Mr. Nicolae MITU, from the Space Data for Societal Challenges and Growth Unit of the DG GROW (European Commission) presented the European Earth Observation sector and the channels through which the Commission supports SMEs, start-ups and young entrepreneurs wishing to grasp business opportunities using EO data.
As aviation is a key economic sector for Podkarpackie, FlySafe was presented to the public as an example of early warning system to reduce the risk of bird strikes which was funded under the ESA ARTES applications scheme. Concrete cases of how regions can develop programs to use space as a driver for other fields were showcased by NEREUS members such as bavAIRia e.V. (Mr. Juergen Vogel) and the aerspace cluster from Apulia Region DTA Scarl (Mr. Antonio Zilli).
A press conference was organized in order to present the adhesion of Podkarpackie Region to the NEREUS network and was yet another opportunity to bring forward the importance of Regions in the development of the downstream market. In this frame, the Marshall from Podkarpackie Region and NEREUS Secretary General Roya Ayazi signed the Political Charter of the network.
PRESENTATIONS
SESSION 1 | Business opportunities for companies across sectors offered by Europe's space systems
The Europeean Earth Observation System Copernicus – what the European Commission does to support businesses to better gras Copernicus opportunities by Nicolae MITU, European Commission – DG GROW
European Satellite Navigation Competition – Bring new ideas to the market by Luisa Wagner, Project Officer, Anwendungszentrum GmbH Oberpfaffenhofen (AZO)
Project example: FlySAFE- ESA Integrated Applications Promotion (IAP) programme opportunities by Dr Piera Di Vito, Ground Systems. Engineer, ESA/ESTEC
SESSION 2 | The added value of networking and interregional co-operations to participate in space opportunities
Presentation of the NEREUS network by Roya Ayazi, NEREUS Secretary General
SATELLITES FOR SOCIETY- Reporting on operational uses of satellite-based services in the public sector – FOCUS ON POLAND by Grazia M. Fiore, EURISY
Regional Best Practice from Apulia Region: Nurturing the Adriatic Space Ecosystem by Antonio Zilli, DTA (Apulian Aerospace District)
Regional Best Practice from Bavaria: Strengthening interaction between politics, research and industry by Jürgen Vogel, Co-ordinator International Programmes, Cluster Aerospace bavAIRia (Bavarian Aerospace Cluster)