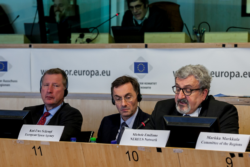 On the 8th of February 2018, NEREUS President Michele Emiliano was invited by the CoR to the roundtable discussion with the European Space Agency (ESA) on "Growth, innovation, and investment in Europe's Regions: the opportunities of space". In his speech, President Emiliano underlined that Regions are fundamental in the development of the downstream space sector for 2 regions:  (1) on the demand side: to promote space applications for the benefits of citizens and modernization of public administration; (2) on the supply side: to facilitate interregional and inter-cluster cooperation.
In this respect, he added, the CoR has already demonstrated its awareness in terms of understanding the importance of regions in strengthening the downstream market value chain – from the satellite and ground station operators to the end user community, passing from the data resellers/processors/distributors to the developers of value-adding services/products. As an example, he added, one can consider: (1) the role of the CoR in the emending the Copernicus Regulation in 2014 and (2) the recent Space European Policy that will drive the future space regulation.
President Michele Emiliano made reference to the importance of NEREUS' political dialogue with the CoR, ESA and national space agencies, European Commission and Parliament, and of the development of joint activities with specific emphasis in areas where regions can play a key role. Satellite technologies and applications, he stressed, remain essential to ensure the security of our citizens by helping regional administrations deal with issues such as disaster management, pollution, water and food security, maritime, border control, migration and climate change.
In his conclusions, he evoked his dream to get inspiration from the United Space of Europe for building the United States of Europe, taking stock from the proven track record of Member States to collaborate together in the space field: "We represent those institutions who work every day in close contact with the people: men, women, workers, students, families. I believe that we should put more efforts and our full commitment as regional representatives to work together and make it happen", he concluded.