Cultural heritage is the fabric of our lives and societies.
It brings communities together and builds shared understandings of the places we live in.
The digital world is also changing our way we access heritage. 
The European Commission, The European Year of Cultural Heritage 2018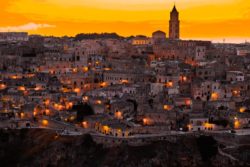 In the beautiful setting of Matera, European Capital of Culture 2019, NEREUS organized a regional workshop together with its stakeholders (Basilicata Region, TeRN Consortium and the Italian Space Agency) as well as EURISY. 2018, as European Year of Cultural Heritage, seemed like a unique opportunity to contribute to the overall objectives of the initiative by fostering a discussion on current and potential uses of satellite-based services to safeguard and promote cultural heritage, create cultural and artistic experiences, foster social inclusion, and promote access to culture and arts within and around cities in Europe and in the Mediterranean area.
Within the frame of the Space4Cities format ideated by EURISY, the partners aimed at:
raising awareness on operational satellite-based services which have already proved their added-value

identifying the obstacles preventing the full exploitation of satellite-based data

collecting needs related to the use of satellite data (and in particular of the Copernicus datasets) and requirements for the integration of such data into existing datasets and platforms at the local, national and international levels.
Following the keynote speeches by the European Commission (DG GROW and DG CNECT), the European Space Agency and the UNESCO Chair of the University of Basilicata, three thematic user sessions looked into how satellite services supported operators in managing historical cities; safeguarding, promoting and valuing cultural heritage; creating innovative artistic and cultural experiences.
On the second day, a wealth of past and ongoing research projects were presented by researchers operating in the Basilicata Region. The audience then learned about different funding opportunities available to use space in the cultural heritage sector, thanks to the knowledgeable interventions of the Head of Space Project Management Sector (Research Executive Agency of the European Commission) and the Head of Commercial Projects Section (Downstream Applications Department of the European Space Agency).
The event ended with a roundtable, moderated by NEREUS Secretary-General Ms. Roya Ayazi, focusing on how to capitalize on the results of the conference to stimulate the uptake of satellite-services by new professional user communities operating in the cultural sector.