During a very special launch event of 'Space Girls Space Women' exhibition, organized on Friday 22th February in Espace Wallonie de Liège, the Joint Earth Observation Working Group for Walloon Public Services in partnership with NEREUS presented an interesting panel discussion on gender in the field of Earth observation and highlighted the importance on promoting and sharing information on Copernicus Earth Observation (EO) services in the public domain. Ms. Nathalie Stephenne, Service public de Wallonie, Geomatics, Expert in Geomatics and Remote Sensing and Mr. Emmanuel Jacquet, Service public de Wallonie, Geomatics, Communication manager took the initiative to bring the exhibition at the beautiful premises of Espace Walonie de Liège and organized a very successful event.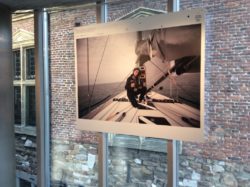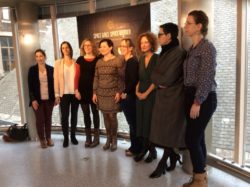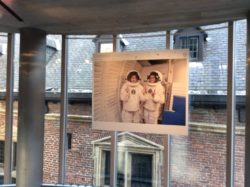 NEREUS had the pleasure to meet 7 great female personalities and discussed how Copernicus/EO impacted their life and what are the benefits: Fabienne Jacq- European Commission DG Growth, Christelle Bosc- Centre d'études et d'expertise sur les risques, l'environnement, la mobilité et l'aménagement (CEREMA), Illaria D' Auria- European Regions Research and Innovation Network, Sophie Petit – Institut Scientifique de Service Public, Viviane Planchon- Walloon Agricultural Research Center (CRA-W), Marie Wenin, Service public de Wallonie – Agriculture, Environment and natural resources, Florence Jonard, Service public de Wallonie – Geomatics.
"My job is to promote space applications to the territories and regions" says Christelle Bosc, Project Manager Satellite Applications at CEREMA­­- a NEREUS Associate Member. One of her main duties is the development of space applications for the downstream sector in Toulouse, France where Christelle listens to users' requirements and needs in order to build a more efficient and user friendly set of EO techniques.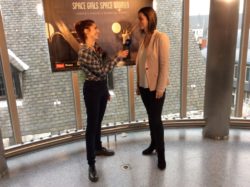 "This means a lot of travels and when you have children -which is my case- it is sometimes difficult to manage everything" she says.  However as more and more women are involved in this particular field, she believes that "things can change" because "women can do just as well as men".
"In my job the challenge is to manage the big data related to the agriculture" notes another 'Space Woman', Viviane Planchon, Team Manager of the CRA-W research unit 'Farming systems, Territory and Information technologies'. Viviane and her team aim at developing tools and decision support systems to improve the technico-economic and environmental performance of farming systems (for example, to achieve a good level of nitrogen on the fields for the farmers based on space information in Wallonia). Viviane explains that they collect all the information coming from the satellite data as well as from the tractors by inventing new tools. "The farmers don't know how to use this information, so we -as a research centre- directly support them on how to use all these data. We are the 'interlink' between research in the spatial information and the farmers".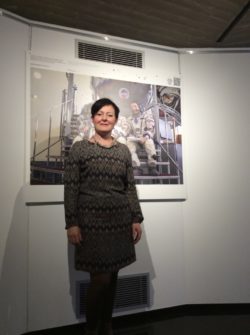 On this basis, Viviane finds the publication "The ever growing use of Copernicus across Europe's regions- A selection of 99 user stories by local and regional authorities" produced by NEREUS, ESA and EC interesting, as it shows how experts manage all this information and explore new tools to benefit other sectors such as agriculture. "NEREUS is really the link between the regions and the EU. That's very important for us" she outlines.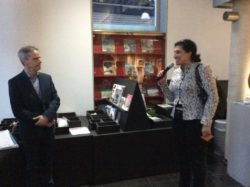 After the opening speeches of Catherine Boucy, Service public de Wallonie, responsible of exhibitions, Jean-Claude Jasselette, Service public de Wallonie, Geomatics, director of the Geometrology and Roya Ayazi, NEREUS Secretary General, the participants were invited to see the exhibited portraits of women professionally active in the space sector. Two ladies are from NEREUS-regions, Ms. Daniela Drimaco, PLANTETEC based in Apulia and Prof. Ana Martins from the University of Azores. Many NEREUS members hosted already the exhibition with a great success and now it will continue to display till the 29th March 2019 from Monday to Friday (08h30-16h30) at Espace Wallonie de Liège (map).
Watch here 'Roya Ayazi Goes live on Twitter'!