The Rural Development Innovation Week was organized on 26-29 March by the Regional Government of Tuscany in Florence, Italy. One of the main objectives of the conference was to link the regional and European dimensions through a broad range of sessions focused on innovative projects and solutions in agriculture and forestry.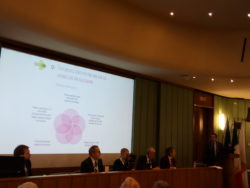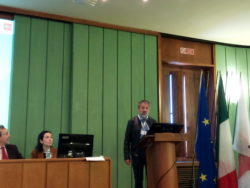 That week was organized in parallel with the European Region for Innovation in Agriculture, Food and Forestry (ERIAFF) annual Conference and the S3 Agrifood Working Committee Semi-Annual meeting that took place on the 27th March.
Fabio Boscaleri, the technical coordinator of the ERIAFF Network, represents Tuscany Region in Brussels as a Policy officer in charge for Food and Agriculture, Bioeconomy, Forestry and Energy. ERIAFF network is comprised of 80 partners and the number of participants increases every year.
"We suggested creating ERIAFF because the European Commission was implementing a European Innovation Partnership in agriculture in 2012. As a result, the European Commission welcomed this kind of network and ERIAFF was constituted in that year in Florence where the Regional Government of Tuscany, through the Ministry for Agriculture, took the lead of a core group of 24 European Regions, strongly committed towards a European policy framework on innovation in agriculture, food and forestry areas. That being said, the rural development innovation week is organized here as Tuscany is very much engaged with rural innovation – something that is also embedded in the Rural Development Programme (RDP – European Agricultural Fund for Rural Development 2014-2020)."
NEREUS- Network of European Regions Using Space Technologies had the chance to talk with important representatives of regions, companies and centres about their experience with implementing the project, the challenges and its outcomes to date. The event on the 28th delivered a rich programme of various workshops implemented in parallel on several topics including Forest Innovation / Bioregions, Technical meeting of the S3 Partnership Big Data & Traceability and Social Innovation and Technical meeting of the S3 Partnership High Tech Farming.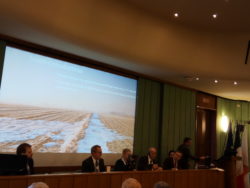 The interviewees presented their pilot actions or the progress on existing projects during the event and shared with us more information: "We are now focusing on smart precision agriculture. We have some innovation experiments and new projects within S3 platform and we are looking to get some cooperation between the different projects. This is why I am attending this conference" says Diederik Van Damme from ILVO presented AI4AGRICULTURE / SmartAgriHubs in the Technical meeting of the S3 Partnership High Tech Farming.
About the smart digital farming project, he says: "We are the glue among different stakeholders within the agriculture sectors – farmers, small companies, technology forums, investment companies- and the concept of innovation for agriculture. Our goal is to create some new innovative technologies that can be used by farmers in Belgium through this interaction!"
In the past, ERIAFF collaborated with NEREUS organising a business matchmaking event in the frame of Watify, an awareness-raising campaign funded by the European Commission. The event promoted advanced solutions on the topic of Precision Farming technologies aiming at closing the gap between hi-tech providers and the farmers. One of the participants of that campaign, Dr Marco Locatelli, Director of Agricultural Management of Tuscany demofarms, joined the same workshop and shared with NEREUS the importance of the demofarm activity:
"Tuscany region has big public farms where we organize this demofarm activity. In a few words, demofarms is a social approach to transfer innovation in agriculture. Demofarms is a system that produces information important for the farmer (eg. weather conditions) based on special software provided by a private company. The digitalization of all information related to the farm, help us to better organize agronomic field trials and manage the data in the system."
"At the same time, it is important to us that the farmer can understand the technical content of the solution we provided him. For this reason, we as Tuscany region participate in the NEFERTITI project which brings together 45 regional clusters (hubs) of demo-farmers with other stakeholders targeting to peer to peer learning." As he concludes, he foresees that demofarms will play a major role in supporting organic farming to tackle climate change in a sustainable way.
The region of Central Macedonia in Greece, an ERIAFF member, will be hosting the conference next year:  "¼ of the agricultural production of Greece is produced in our region, we have dynamic crops such as olives, fruits and vegetables, therefore our impact in the Greek agricultural sector is huge" says Dr. Konstantinos Tertivanidis, Director of Regional Development Fund of Central Macedonia.
"We are also interested in other applications, such as disease forecasting, there are diseases that are not visible and you can locate them with satellite images, tree condition, maturity stage. We cooperate with private companies which provide us with satellite imagery to predict diseases in the olive trees or track the stage of maturity grapes in wine."
"For the moment it is difficult for many farmers to understand these new technologies. However, as more and more innovative projects are funded I see that the problem will eliminate in the future."
In the framework of the hi-tech platform, Central Macedonia region enriches its ecosystem of actors by cooperating with different stakeholders like for instance the American Farm School. Dr Philippos Papadopoulos, Director of the Strategic Project Management Office of the American Farm School, was one of the main speakers of the session presenting the pilot case FreshFruit (kiwi cultivation and table grapes):
"The principal concept of what we are doing is to relate technologies in tangible ways with the real economy. The idea is to use our network of farmers that are already digitally connected as hosts for new technologies that are of interest to them,  emanating from different regions of the platform. To be honest, we already have interest from technology providers outside the platform which I suppose is a sign that we do something right".
"We are trying to bridge new startups in agritech, which tend to be technology driven rather than need to be driven, with the agronomic science behind and agriculture and the needs of farmers. It's all about creating an ecosystem of different types of players that learn all from each other."
"I think its common sense that the future of agrifood is digital and the question that is now open is who is going to be on the train and who is going to be left behind and we are determining that the region of Central Macedonia won't be left behind."
Finally, he foresees that satellite technology will soon become a requirement when it comes to connecting farms to transport and logistics (especially if you are talking about exports).
The Region of Western Macedonia, also an ERIAFF member, is a close collaborator with other European Regions and Educational Institutes (such as American Farm School).   Western Macedonia occupies an area of 9.461 Km² eminently mountainous, with a population of 290.000 inhabitants approximately.  It is the only Greek Region with no access to the sea, located in the northwestern part of the country.
Among the economic sectors, the agricultural sector has an important share in the regional economy and employment and is considered both as an economic activity sector and as a social cohesion factor, especially in mountainous and remote areas.
Regional agricultural products are characterized by their quality. Significant development options of the sector emerged, as there is a worldwide increasing consumers' trend, for local and traditional products considered more qualitative.
Mr. Christos Karantinos, Manager of Unit B ''Management and Monitoring Acts'', and Mr. Theodore Siogkas, Managing Officer of Western Macedonia's Operational Programme Actions for Priority Axes, RIS3 and Social Inclusion, highlight that we must take rapid steps at regional level, for implementing innovation in the agricultural and forestry sector, as we need to compete with other producers at an international level. "Networking with other European Regions and transferring know-how experience and good practices is a way to tackle this challenge."
"The real issue here is to gain competitiveness through quality increasing and production cost reduction. This is feasible through the application of modern technologies. For instance, some of these technologies, aiming at improving the production management and protecting natural resources and environment at the same time, could be satellite monitoring of water and other natural resources, transport and logistics, etc" said Mr. Siogkas.
Indra is one of the companies that participated in the rural development week. Indra is a global company of technology, innovation and services, in particular in the Transport and Traffic sectors, but also in Energy, Industry and Public Administration management, among others. Marcos Ortiz Vandenplas, works for the Research and Development Unit and represents his Department in Brussels:  "Concerning the meeting today, agriculture becomes a more and more important sector to invest and Indra thanks to its long tradition and experience can contribute significantly to its digitalisation. The introduction of new technologies will provide undoubtedly a better lifestyle for those that work and live presently and in the future in the countryside."
Mr Sergio Koop Quesada, a Smart Cities consultant for Indra, explains: "What we are trying to do is to give intelligent insights to the Regions in order to make smarter decisions and provide farmers with a technology that by themselves they cannot afford."
"We are trying to democratise technology, that is now far away from small farmers, by providing services at the regional level so that Regions may promote this technology among their farmers.
Finally, we aim to build an ecosystem where we also want to share knowledge with other regions in Europe. Interoperability should be implemented between countries and regions to share knowledge and experiences. This is basically our role in S3 high-tech farming."
The conference welcomed over 270 registered participants and took place at the beautiful surroundings of the Congress Palace in Florence, Tuscany. Tuscany is a full member of NEREUS.