The 2020 Earth Observation Industry Survey has been published by EARSC in July. This report covers the results coming from the 1st survey conducted at an interval of one year from the previous one. It has not covered all aspects of the full industry survey, which will be included when the next one is conducted (in early 2021).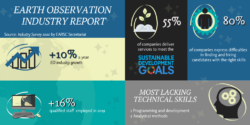 The analysis shows that the Earth Observation industry continues to grow at a healthy pace of 10% a year with 9876 employees and revenues estimated at €1.38b for 2019.
More information at the EO4GEO Medium (link).
© ESA — P. Carril