NEREUS organises a dedicated web session to present the EO4GEO initiative on Tuesday, 20th October 2020, 14.00 – 15.30h (CEST) with key invited speakers from the Earth Observation/Geospatial sectors! 
The webinar has the overall objective to promote the EO4GEO sector skills alliance and its tools towards the Member regions and universities but also to get their views on the initiative.
The ERASMUS+ funded initiative EO4GEO (Towards an innovative strategy for skills development and capacity building in the space geo-information sector supporting Copernicus user uptake) under the Blueprint for Sectoral Cooperation on Skills schema aims to help bridging the skills gap in the space/geospatial sector by creating a strong alliance of players from the sector/community reinforcing the existing ecosystem and fostering the uptake and integration of space/geospatial data and services.
-> Registration is free and obligatory (link). As places are limited, please note that priority and preference are given to NEREUS Members and you will be notified in due time if your participation in the event has been accepted.
Other important info
Objectives:       
Raise awareness on the EO4GEO initiative: Introduction of EO4GEO Sector Skills Alliance to the regional ecosystem;
Promotion of the EO4GEO tools to NEREUS Member regions and universities;
Gather input and feedback from the regional/university community on the adequacy of the tools;
Enhance interregional collaboration;
Improves connections within the EO4GEO community.
Target group:  NEREUS-members (regions) interested in education/training, NEREUS-regions who hosted the EO4GEO workshops in the past or who are interested to host a regional WS, all NEREUS-members interested in the development of the future workforce and the current/future needs of the Earth Observation/Geospatial sectors;
Time duration: 1h & 30 min
Download the agenda here (link).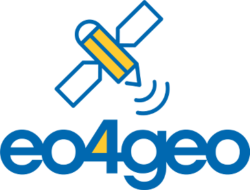 ---
EO4GEO webinar is part of the NEREUS web-sessions series that will focus on the presentation of all projects (Copernicus4Regions, EO4GEO, CoRdiNet, IMPRESSIVE, Space Girls Space Women) that the Network currently implements. The purpose of these webinars is to showcase the important role of regions in EU initiatives related to the use of space.