NEREUS organises a dedicated web session to present the IMPRESSIVE initiative on Wednesday, 18 November 2020, 14.00 – 15.00h (CEST) with invited speaker Daniela Iasillo (Planetek Italia)! 
The webinar has the objective to update NEREUS members about the development of the IMPRESSIVE platform and the benefits of using it; share experiences and expertise with other regions and stakeholders in the area of maritime; network and mobilise interregional collaborations;
-> Registration is free and obligatory (link). As places are limited, please note that priority and preference are given to NEREUS Members and you will be notified in due time if your participation in the event has been accepted.
Other important info:
IMPRESSIVE aims at developing a universal relocatable platform to track, in real-time, marine pollution events in the wider area of EU harbours. A consortium of 12 partners from the business, research and institutional sectors will work towards the development of a platform that will be composed of remotely operated, sophisticated tools integrated with very high-resolution models and Earth Observation (EO) products for pollution control in harbours and coastal areas.
Target group:
NEREUS-members with port authorities or interested in the use of space data in maritime to track marine pollution events, associate members (companies, associations) with a focus on maritime.
Time duration: 1h
Download the agenda here (link).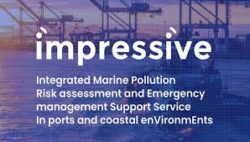 ---
IMPRESSIVE webinar is part of the NEREUS web-sessions series that will focus on the presentation of all projects (Copernicus4Regions, EO4GEO, CoRdiNet, IMPRESSIVE, Space Girls Space Women) that the Network currently implements. The purpose of these webinars is to showcase the important role of regions in EU initiatives related to the use of space.