NEREUS organised on 5th October 2022 the first session on "Education and training in the space sector: new trends, partnerships, and opportunities".  The goal of the webinar and the next one to come (7th November) is to introduce the new players in the education and training sector who recently joined NEREUS, and to enhance partnership and cooperation between members, identifying common goals, opportunities, educational programmes and areas of interest.
Sharing their individual experience and views, professors and key educational players presented their activities and space studies programmes in a moderated debate with the audience including students, representatives of public authorities, and the space market. Ms Margarita Chrysaki, NEREUS Communication and Project officer, gave a short presentation of the Network and moderated the discussion.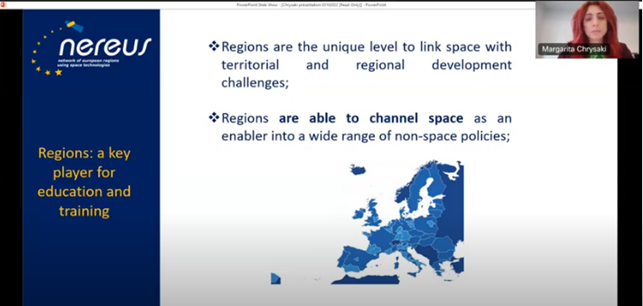 Professor Andreas Kazantzidis from Laboratory of Atmospheric Physics, University of Patras and Mark Lester from University of Leicester (and Vice President of NEREUS) discussed the activity of their universities and their expertise.
Professor Mark Lester and NEREUS Board member described the areas where the University of Leicester contributes to the training and development of skills in the space sector such as pre-degree, undergraduate degrees and postgraduate degrees. Giving an overview of the UK space sector, Professor Lester highlighted the huge need for highly skilled workers and professionals (more than 100.000 new jobs will need to be filled by 2030). On this basis, he mentioned that the fact that the UK is no longer part of the EU represents a problem as applications to senior positions and highly skilled jobs already significantly reduced. Talking about the needs of the UK space sector, he particularly highlighted: "We need early career entry points with enough capacities and that's graduates and apprentices, we need mid-careers transition routes and most importantly we need a sustainable pipeline. The University of Leicester is central to this as is one of the most experienced and successful space science and technology universities since 1967 with education and industrial activity".
Industrial placement as a tool to improve students' skills was specifically discussed. Professor Lester highlighted several benefits such as skills development, professional approach, network building, and CV enhancement. Furthermore, he presented Space Park Leicester, a new complex that hosts students for technical training and projects, located close to industrial partners, fostering the connection between the academic and industrial sectors.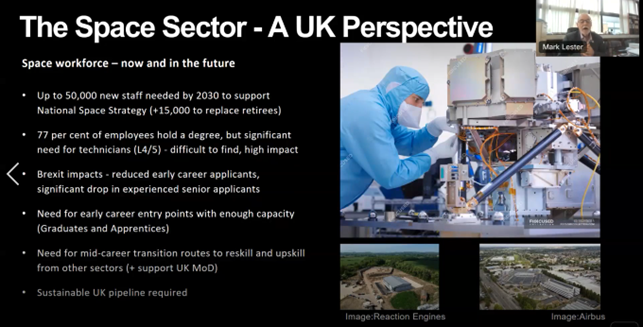 Secondly, Professor Andreas Kazantzidis from the University of Patras introduced the activity of the Laboratory of Atmospheric Physics (LAPUP). LAPUP is one of the newest members of NEREUS and for now the only Greek member of the network. The Laboratory carries out research activities on different topics such as solar radiation resource forecasting, weather and atmospheric pollution monitoring and modeling, artificial intelligence methods applied to atmospheric and environmental physics problems, ultraviolet radiation measurements and modeling, and weather/climate effects and early warning for epidemics. Professor Kazantzidis highlighted "the physic department is part, among the others, of the Copernicus Academy network and participates in different EU calls and actions". One of these projects, the S3 Smart Solar System is aimed at developing a smart solar system infrastructure that can predict the optimum RES strategy at all times depending on weather forecasting and energy demand projection. Also, he mentioned how "LAPUP is gaining expertise and is highly interested in several fields of applied meteorology and environmental physics such as weather forecasting, satellite and ground info for extreme events, air quality and, in particular, health effects of outdoor and indoor air pollution". In conclusion, LAPUP manifested its interest in collaboration in regional programs, citing Interreg Greece-Italy 2021-2027 recently approved.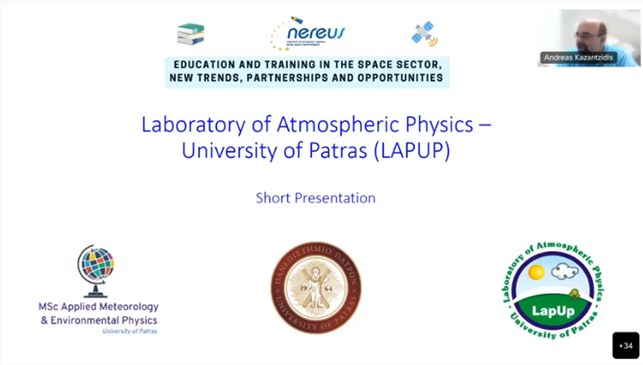 In the framework of enhancing cooperation among members, Francesco Casari, NEREUS trainee, presented an interesting opportunity for Universities under Europe Digital program.
In the second part of the session, the panelists were engaged in a Q&A session with the participants. Answering the questions: "what are the recommendations you may give for a better-equipped workforce in terms of skills?" Professor Lester highlighted "different countries have different requirements, the most important thing is to try to bring as many stakeholders into the discussion as you possibly can, we spent a lot of time talking to the industry in the last 5 years asking what it is that they need, we have also talked with local government their interests and necessities, there is no need to reinvent the wheel, a lot can be achieved through collaboration".
Prof Kazanzidis answering the question: "What are the main challenges and obstacles to organizing an educational offer on space-related skills?", he outlined that: "is crucial to identify the skills you want to give to the students. These kinds of degrees are not general degrees, the challenge is to identify these skills and the soft skills, for this challenge an interdisciplinary and cross-cutting background is needed to build programmes and courses".
Next, Martyna Stelmaszczuk-Goorska from University of Jena presented EOTEC DevNet, Earth Observation Training, Education, and Capacity Development Network. The Network aims at making earth observation capacity building more accessible and relevant to the users and increasing the use of EO in decision making. The Network operates through two pillars, at regional and global levels, and is actively involved in EU activities and funded projects.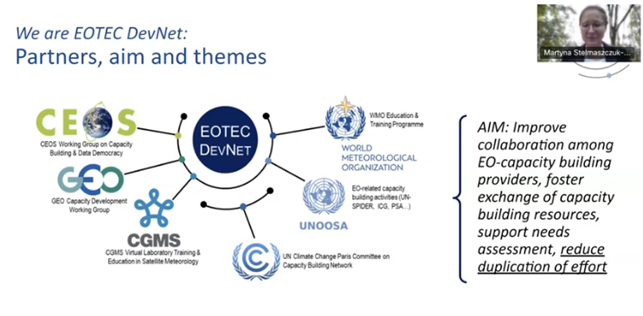 In conclusion, Sven Casteleyen from Universidad Jaime I (Spain) and Eva-Maria Steinbacher from the University of Salzburg (Austria) presented the EO4GEO tools and training material. EO4GEO is a concluded EU-funded project to reduce the skill gap between educational offers and professional demand in the EO sector, NEREUS was one of the consortium partners in the project.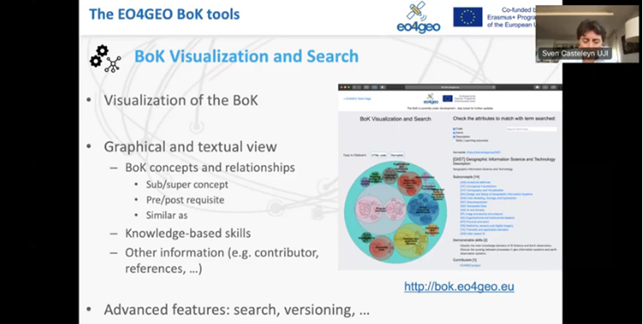 The event attracted more than 60 registered participants from NEREUS community and other relevant EU-organisations, Brussels-based regional and national representations, and Member State representatives' space agencies; associations, companies and research centers.
The next webinar on education/training in the space sector will present the NEREUS members of i) the Politecnico of Milan and ii) the Cyprus University of Technology and it will take place on the 7th of November 2022 at 11:30 AM-12.30 PM CET. Registrations are open!!
Watch the webinar here: