On 30th January 2023, 10.00-11.30, NEREUS organised the 2nd session on space defense targeting the space business community (space clusters, companies, SMEs) and introducing to the audience the European Network of Defence-related Regions (ENDR) and the synergies between Security/Defence and Space. Ms. Roya Ayazi, NEREUS Secretary-General moderated the panel of the following esteemed speakers. Click on the names of the speakers to download the presentations. You can download the agenda here (link).
Mr. Barry Conroy from the European Commission, DG DEFIS , elaborated on the synergies between Space & Defence, in particular the key objectives and activities of the Action Plan on synergies between civil, defence and space industries presented by President von der Leyen at the special European Council, on 26.02.2021.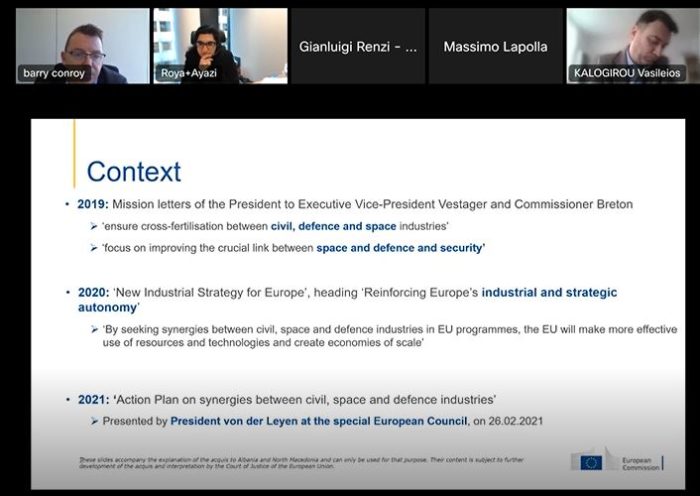 Mr. Paul Anciaux from the European Commission, DG DEFIS, presented the  European Network of Defence-related Regions (ENDR), whose mission is to bring together regional authorities and clusters to share experiences and best practices on dual-use and defence-related activities. Various organisations of NEREUS-member regions are part of the ENDR network (e.g.SKYWIN Wallonie, Pole Mer Bretagne Atlantique, Aerospace Valley, Forum Aerospace Baden-Wuerttemberg, Distretto Aerospaziale Piemonte (DAP), Madrid Aerospace Cluster).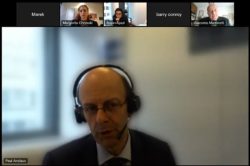 Mr. Giacomo Martinotti, Vice-president of Distretto Aerospaziale Piemonte, highlighted the importance of the clusters and SMEs in offering dual-use technologies, and therefore he addressed to the Commission the significance of the dual use in research and innovation projects and avoid duplication of efforts.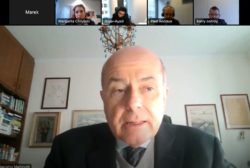 Mr. Vasilis Kalogirou, Space downstream and innovation officer from EUSPA, presented the EUSpace4Ukraine initiative launched in 2022. EUSPA is mobilizing the EU Space innovation community that can provide technological solutions to enhance humanitarian support for the Ukrainian people. This platform aims to match innovators with NGOs and other helpers through the #EUSpace4Ukraine Network. You can register for the #EUSpace4Ukraine Demonstrator for Humanitarian NGOs – Online Workshop on 2 February here.
Ms. Ayazi referred to Commissioner Breton's intervention during the 15th European Space Conference last week in which he explained the key objectives of the expected EU Space Strategy for Security and Defense. Bearing in mind that the Commission intends to strengthen the use of space for security and defense purposes, she invited Dr. Dimitrios Stroikos,  Head of the Space Policy Project from the London School of Economics , to share his point of view on how this enhancement of space for security and defense operations could affect Europe's relations with other space powers, the blurring distinction between civilian and military uses including the need of a strategic approach.
The speakers received many questions from the audience which were monitored by the NEREUS team. Watch the full webinar here: