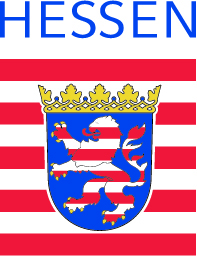 Hesse is one of the 16 German Länder and is located right in the heart of Germany and Europe, hosting the geographical centre of EU-27 as well as the European Central Bank, the Frankfurt Airport and the economically strong FrankfurtRhineMain region. This includes the Science City of Darmstadt, which not only offers one of the leading Universities of Technology, TU Darmstadt, but various Fraunhofer–Institutes (e.g. IT Security or Computer Graphics) and national research organisations.
Hesse is also one of ESA´s key locations, hosting the European Space Operations Centre ESOC. The Centre for Satellite Navigation Hesse (cesah) and the air traffic control agency Deutsche Flugsicherung are in the vicinity. cesah is a competence, information and incubation centre for Satellite Navigation supported by its shareholders, the Region of Hesse, the City of Darmstadt, as well as renowned scientific and industrial partners. It is a partner of the ESA Business Incubation Initiative and supports the development of business ideas and Satellite Navigation start-ups.
Furthermore, the FrankfurtRheinMain region is the German heart of industrial and special applications software, as well as the centre for optics and optoelectronics.
Hessen-IT is a programme developed by the Hessian Ministry of Economy to support market development of the ICT sector and  efficient and creative use of information and communication technologies by SME's
Co-founded by the state of Hesse and the city of Frankfurt, the innovative concept of the House of Logistics and Mobility, HoLM, is an illustration of the strength and commitment of Hesse to the development of logistics and mobility.