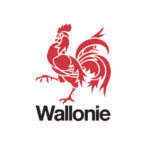 Located in the Southern part of Belgium, the Walloon Region has quality higher education and a dense communication network. The unique player in the aeronautical and space field is the Cluster "Skywin Wallonie",
Skywin gathers a group of companies, training centers and research units engaged in public and private partnership and building synergies around common and innovative projects in the Walloon region of Belgium.
Skywin was established in 2006 by the Walloon regional government and represents some 7,000 direct jobs and more than € 1,6 billion in revenue, exporting more than 90% of its products.
Skywin counts more than 150 members including more than 90 SME's.
The Walloon Aeronautics Industry (1350M€, 5500 employees) is mainly focused on Aircraft Engines and Structure, Equipment, Simulation and Training.
The Walloon Space Industry (250M€, 1500 employees) is mainly focused on Equipment for satellite payload and launcher, System exploitation and Space applications.
As a competitiveness cluster, Skywin's objective is to foster and promote the technological developments of Walloon aerospace entities, which supply competitive products and services.
Up to now, Skywin managed 18 Call for Proposals, representing a total of 72 projects in the domains of R&D, Investment or Training for a total budget of nearly 225 M€. These projects totalise about 335 contributions from innovation actors in Wallonia, led by Industry (with a strong involvement of our SME's).
The 6 priorities and strategic orientations of the Skywin Cluster are the following:
Composite materials and Processes
Metallic materials and Processes (including Additive Manufacturing process)
Embedded Systems (for airplanes, satellites or drones)
Airport Services
Space and Drone Applications and Systems
Modeling and Simulation (as transverse orientation)
The 35 space actors of Skywin Cluster are industries, universities, laboratories concerned directly with space research, development, technology transfer, spin off incubation, education and applications. The members have expertise in all the space segments: ground equipment and preparation for space, access to space, in orbit activities, exploitation, space applications (GNSS, GMES, TELECOM) and space education.
More information on Belgians' space activities and actors: www.skywin.be (space brochure at : http://www.skywin.be/sites/default/files/kcfinder/329-pierre-jean.fondu%40skywin.be/files/SKYWIN%20aerospace.pdf )