The Copernicus4Regions initiative explores how other regions in Europe have managed to tackle common challenges, shows the benefits of the Copernicus programme and therefore invites more regions to be involved in the Copernicus ecosystem.
Copernicus4Regions is a collection of 99 user-stories with a strong focus on Public Authorities who are the key potential users of Copernicus data. These stories collectively testify to the Programme's contribution in modernising the public sector and enabling it to deliver more efficient public services, thereby contributing to an increased quality of life and level of satisfaction for European citizens. Copernicus is the EU-led programme looking at our planet in support of the environment and emergency management for the ultimate benefit of all European citizens. Learn more at www.copernicus.eu
The Ever Growing Use of Copernicus across Europe's Regions publication (2018) showcases 99 user stories that describe how public administrations across Europe are using Copernicus data and information to address their challenges and how this is positively impacting the lives of citizens.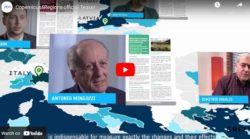 In this context the following videos had been developed to further promote the initiative: a) 5 inspiring short films (with subtitles) which share user experiences in important public policy areas, including tangible benefits for society. Regional users from Milan (Italy), Navarra (Spain), Greece, Wallonia (Belgium) and Nouvelle Aquitaine (France) were selected to describe the impact that space-based solutions have had on their own administrations. b) 2 more short films (with subtitles) showcase nine more interviewees from 6 different countries (France, Norway, Spain, Slovakia, Italy, and Latvia) who share best practices with the objective to inspire other regions to use Copernicus for the benefit of the citizens. c) 1 short film in which politicians, and users share their views on Copernicus as support to Europe and its citizens. Last but not least d) a dynamic teaser serves as a synopsis of the whole initiative. All videos are currently available on this site (link).
Further outreach material complements this publication, such as brochures (link), info sheets (link), and native language material which is featured on NEREUS' website.
This initiative is managed by the Network of European Regions Using Space Technologies (NEREUS), under a contract from the European Space Agency and funding from the European Union, in collaboration with NEREUS.