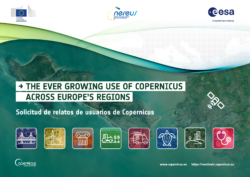 The European Commission, the European Space Agency and the Network of European Regions Using Space Technologies (NEREUS) are inviting contributions for their joint publication
"The ever growing use of Copernicus across Europe's regions".
Submit a short story with inspiring pictures showcasing
how Copernicus data help European local and regional authorities address territorial challenges!
The collection of Copernicus user stories will be featured as a publication targeting decision-makers as well as the general public.
Exemplary cases from the publication will be selected to benefit from enhanced outreach actions.
* * * * * * *
BE FEATURED IN A PUBLICATION, BOTH ON PAPER AND DIGITALLY
User stories will be collected in a publication to be made freely and openly available both online and as a high-quality printed edition. The publication will be widely promoted targeting policy-makers in local and regional administrations, elected representatives in European and Member State Parliaments and industry chief executives, especially small and medium enterprises in the regions.
BE PRESENTED AT THE EUROPEAN PARLIAMENT
The publication will be presented in Autumn 2018 in the frame of a dedicated event at the European Parliament addressing policy-makers at EU, national and regional level. Selected representatives from local and regional authorities will be invited to share their user experience with a political audience, and describe the impact of their space-enabled solutions on their administrations.
BE FILMED IN A PROFESSIONAL VIDEO
Short professional movies will be produced featuring the most effective Copernicus user stories which show benefits to the general public. Interviews with regional user representatives as well as snapshots of the territories will be included.
BE SHARED IN THEMATIC WORKING SESSIONS 
Copernicus user stories will be clustered to address common challenges. These will serve to animate interregional working sessions aimed to support up-skilling and best practices. Local and regional authorities that have produced stories of particular relevance will be invited to host these working sessions.
RECEIVE FREE PROMOTIONAL MATERIAL
Depending on emerging resources and needs, the articles will be translated in other EU languages to facilitate outreach, especially towards public administrations. Public authorities might be eligible to receive free, printed material until consumption of funds.
More information on this will be published in the future.
* * * * * * *
DEADLINE TO SUBMIT YOUR COPERNICUS USER STORY: Friday 16th February 2018 (23.00 C.E.T.)
Questions? Write to copernicus4regions@euroinbox.com
* * * * * * *
CALL FOR ARTICLES – INSTRUCTIONS FOR THE AUTHORS
ANNEX 1 – TEMPLATE FOR SUBMITTING THE COPERNICUS USER STORY 
ANNEX 2 – MOCK-UP OF THE PUBLISHED COPERNICUS USER STORY
ANNEX 3 – DECLARATION ON INTELLECTUAL PROPERTY RIGHTS
ANNEX 4 – INSTRUCTIONS FOR UPLOADING THE MATERIAL ON THE CONFTOOL SOFTWARE SYSTEM
PROMOTIONAL MATERIAL IN 5 MOST SPOKEN LANGUAGES OF THE EUROPEAN UNION
* * * * * * *
EDITORIAL COMMITTEE
European Commission – DG GROWTH  Unit I.3
European Space Agency – Copernicus Office in the Directorate of Earth Observation Programmes
Network of European Regions Using Space Technologies – SecretariatPUBLICATION MANAGEMENT
Politecnico di Milano – Prof. R. Brumana and Dr. B. Cuca
REVIEWERS PANEL 
Reviewers with proven experience in Earth Observation applications are voluntarily providing expert advice on the submitted Copernicus user stories to ensure that the criteria for ensuring a high-quality publication are met.