NEREUS together with the University of The Azores organizes a virtual workshop on "EO4GEO- Skills development in Earth Observation and Copernicus User Uptake: the present and future of Coastal and Maritime sector- The Azorean case".
Please download the agenda with the names of the speakers (link).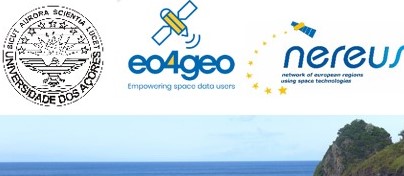 WHAT IS ABOUT
Introduction of EO4GEO initiative to relevant stakeholder communities; raise awareness on the EO4GEO initiative (Learn more about EO4GEO Project here);
Identification of current and future needs of EO/GI skills in coastal/maritime economic activities for the Azorean landscape (gap analysis);
Discussion and solutions provided by the EO4GEO tools to the Azorean audience.
The outreach-workshops are embedded in the ERASMUS+-funded initiative EO4GEO, a Sector skills Alliance project of 26 partners from 13 EU countries, most of which are part of the Copernicus Academy Network, and active in the education and training fields of space / geospatial sectors.
AUDIENCE
Everyone interested in Education, Training, Skills Development and Capacity Building in the Geo-information sector/Copernicus: Representatives of regions, public authorities using space data and interested to develop necessary skills, education and training organisations, universities, businesses active in the geo-information and space sectors, and any other interested stakeholders are invited to join the workshop.
PRACTICAL INFO