Space 4 Critical Infrastructures, a webinar series co-organised by NEREUS and Eurisy, focuses on eleven sectors identified in the EU Directive on the resilience of critical entities. In recent years, with the advent of COVID-19 and the regulation in some European countries of telemedicine, the healthcare sector is rather exposed to multiple potential risks. Identifying and ensuring the resilience of the sector through a coordinated approach and protecting national data and infrastructure takes on a different relevance today. This eighth thematic session of "Space 4 Critical Infrastructures" showcased examples of how satellite technology offers health operators the opportunity to make this sector more resilient and to better manage potential risks to protect health infrastructures. Healthcare fields such as telemedicine as a growing trend started in Europe, especially after Covid19. 
Firstly, Jacopo Ovarelli and Marketa Gladysev (EUSPA business consultants) shared with us a general overview of the current and future EU activities in this domain.  
Mr. Ovarelli pointed out that through Galileo and EGNOS new businesses across different markets is enabled including different application areas in healthcare. Ms Gladysev mentioned a few examples of solutions such as smartphone apps and wearables used by individuals for personal health, prevention, well-being, and fitness (eg. UV-Bodyguard for sunburning prevention using Copernicus data). In addition, map services and platforms for health risks related to environmental conditions and viruses (eg. EYWA-Early warning system for mosquito borne diseases) are used by health organisations, citizens, or NGOs. Last but not least, disaster risk management applications using Galileo and the EGNOS systems contribute to the emergency response. To this end, EUSPA supports the development of applications/services by funding tools to stimulate innovation and foster EU space SMEs and start-ups (CASSINI, HorizonEurope, Galileo/EGNOS, adoption grants). During the discussion regarding the use of satellite technologies for disaster risk management, a question came up on how IRIS2 and the national GOVSATCOM systems will support emergency medical services. Both mentioned that these programmes are not yet deployed as the focus is still on the deployment phase. However, EUSPA is already developing roadmaps considering the role of space in the healthcare sector.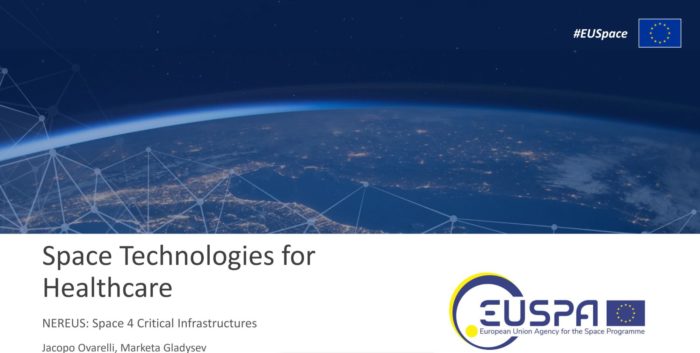 Secondly, Space4Critical Infrastructures Ms Anca Anghelea (Technical officer at Open Science, Digital Innovation, Earth Observation Science and Applications, European Space Agency) reported on the RACE dashboard initiative. The goal of the initiative was to deploy open-source dashboards to provide open information regarding Covid-19 to the citizens. The tool was triggered by the Covid-19 crisis and it is now international cooperation on EO and an open source enabled by Euro Data Cube and inter-Agency Technologies. RACE offers a platform where interested stakeholders can generate new value from EO and use data. The initiative is using sentinel data for the protection of health infrastructures through supply chain indicators covering transportation and raw materials and environmental indicators including water quality and air pollution that can affect the health industry. Interested stakeholders can participate in the initiative here (link). Responding to the question regarding the transition to the current RACE Dashboard configuration, she underlined that the tool was still in use by citizens even if the pandemic was decreasing. This is because of the added-value of the tool in other areas to help understand environmental monitoring through human activities.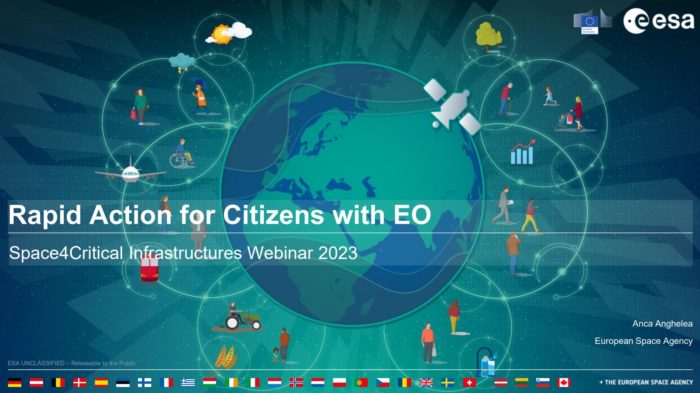 Next, representatives from the private and research sector shared specific use cases on space data and healthcare. Ms Silvia Panicacci, a Healthcare & Telemedicine Business Developer from Ingeniairs, an Italian company presented Easycare, a satellite based solution using GPS to monitor remotely patients affected by Covid-19 and reduce hospitalizations. The project led to the development of the final product EASYTELEMED, a platform dedicated to the management of the remote monitoring of patients and recognized by doctors and patients. Ms Panicacci replied that there is an increasing interest in telemedicine in Europe with the potential to continue in the future, however, it is still at the pilot stage.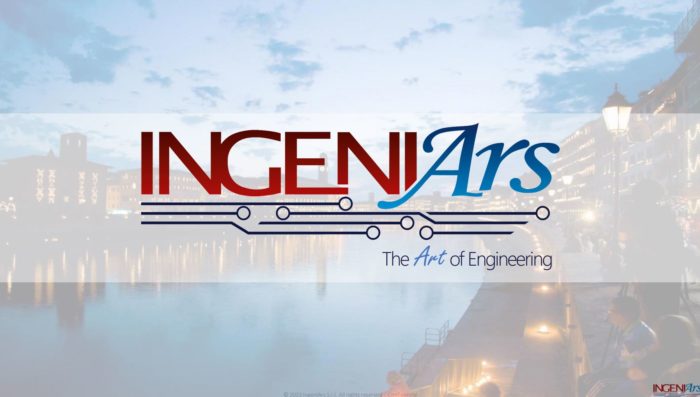 Novi Dewan, a digital health expert quoted also concrete examples of space-based applications within and outside Europe to support health systems. Ms Dewan started by outlining that any technology, space or non-space, has to be an enabler for equity and advancing sectors such as healthcare. Tempus Pro, a telemedicine device, B-LiFE, a biological field laboratory, and CEMS- Copernicus emergency management are a few of the examples illustrating innovative solutions to protect astronauts' health, improve virus testing, support evidence-based decision-making during Covid-19, drones to transport chemotherapy, etc. Given that telemedicine is a traditional field in India, Ms Dewan referred to some examples of using space data in critical healthcare situations for which innovation and partnership between public and private sectors play a key role and can further inspire Europe.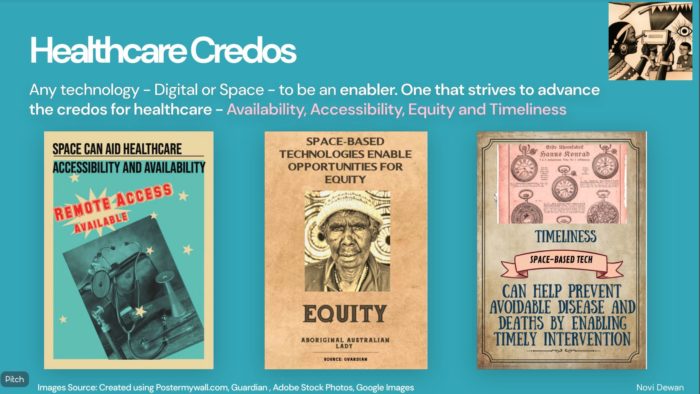 Discussing with the panel, the main challenges for using space in healthcare identified by the speakers were amongst others: a) expertise needed to explain RnD solutions to healthcare experts, b) outreach/awareness to the healthcare/pharmaceutical community, c) access to the public sector, d) regulation. 
The webinar was moderated by Margarita Chrysaki, and hosted more than 60 registered participants. The date for the next webinar on "Space" will take place very soon. 
Watch the recording here (link).